Help Your Clients Reduce their Cyber Risk

with CyberEdge's Complimentary Tools and Services
Contact us today to learn more.
Eligible CyberEdge
®
policyholders* receive complimentary access to the following tools and services. If a client were to obtain these types of services on its own, it could easily cost in excess of $25,000, not to mention the time and effort in vetting the numerous service providers in the market.
Let's work together to help bend the cyber risk curve in our mutual clients' favor.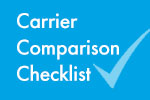 We're here to help you and your clients navigate the crowded cyber carrier market. Use this checklist to compare CyberEdge's complimentary risk tools and services with other carriers.
Complimentary tools and services include:
Employee Cybersecurity eLearning – Available in 11 languages
Meaningful, sustainable, and measurable cyber risk reduction eLearning to reference and reinforce clients' security policies based on employees' individual roles.

Blacklist IP Blocking and Domain Protection – Reduces the attack surface up to 90% ahead of the firewall
Enables organizations to control their exposure to criminal activity by leveraging vast threat intelligence repositories, precision geo-blocking, and black-list automation to reduce risk.
Infrastructure Vulnerability Scan – Identification of high risk infrastructure vulnerabilities
Experts examine the insured's internet-facing infrastructure and identify vulnerabilities that are open to potential exploits by cyber criminals. Learn more >
Legal Risk Consultation – Review and strengthen incident response capabilities
Two hour consultation with an expert on incident response planning, regulatory compliance, security awareness, or privacy training.
Forensic Risk Consultation – Organizational preparedness for different threat scenarios
One hour consultation with a forensic expert on what an organization needs to think about and prepare for different threat scenarios.
Public Relations Risk Consultation – Crisis communication plan best practices and preparation
One hour consultation with an expert to prepare and plan for potential scenarios if one should occur.
CyberEdge Hotline – 24/7/365 cyber hotline
Our CyberEdge Claims Hotline is available 24/7/365 at 1-800-CYBR-345 (1-800-292-7345). Once a call is made, the CyberEdge Claims Team will coordinate with you to implement your response plan, engage any necessary vendors including breach counsel and forensics firms to identify immediate threats (such as a hacker inside a network), and start the restoration and recovery processes.
Insurance Portfolio Diagnostic – Cyber as a peril analysis against insurance portfolio
Experts review your entire property and casualty portfolio to determine how it is anticipated to respond to the spectrum of cyber risks.
Learn more >
Cybersecurity Information Portal – Online access to cybersecurity information
24/7/365 access to current cybersecurity information. Learn more >